Steve Pratchett's still life studies using the medium of oil pastels
Scroll down the page to view my paintings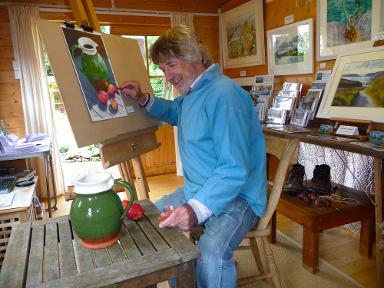 Here I am working in oil pastels during 'Drawn to the Valley' Open Studios on a study of a jug and apples caught in the sunlight streaming through the window. This piece is called 'Susie's Jug' as the jug was made by Susie Jones my neighbour and potter at Bere Pottery in Rumleigh Devon.

In 'Susie's Jug' it is the reflections of light and the apples on the glazed surface of the jug which mesmerised me and the turquoise blue you can see on the jug is a reflection from my painting smock. Because red of the apples and the green of the jug are complimentary colours, they both become more vibrant to the eye when juxtaposed than they would do on their own.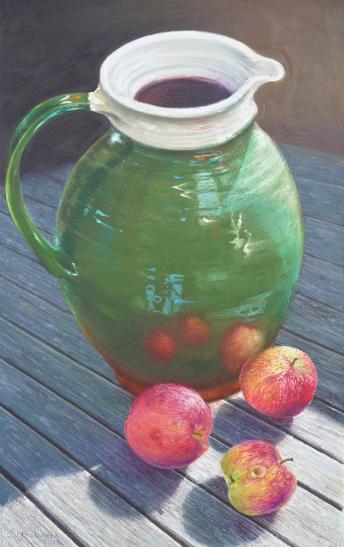 In still life studies I am particularly fascinated with reflections and refractions of light on translucent and transparent objects and the shadows they cast. Another of my preoccupations is with 'local colour', namely the subtle variations of hue within what at first glance seems to be one uniform colour. There are often a myriad subtle and sometimes minute colour changes brought about by the light source and the juxtaposition of objects and surrounding surfaces within the environment in which the study is set.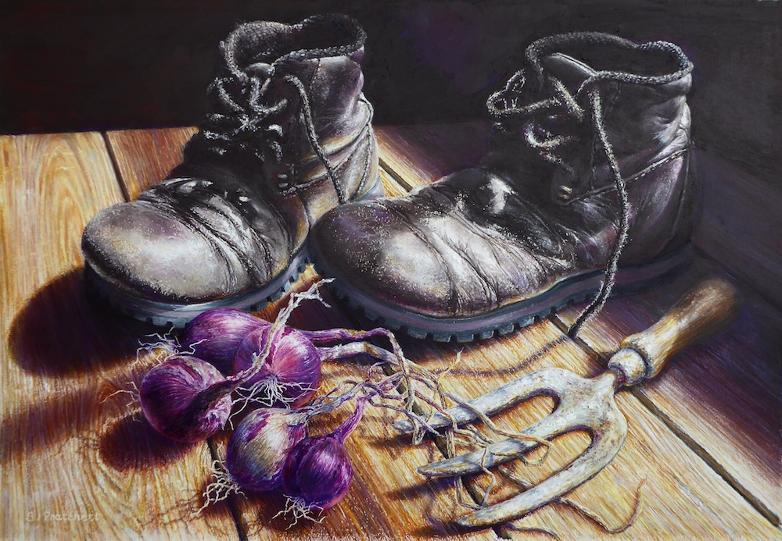 Oil pastel: 'The Potting Shed' (38cm x 55cm)
Still life studies
Select a thumbnail to enlarge image & use the 'Next' and 'Prev' arrows at the side of the full size image to scroll through the gallery.
Please wait for images to load - time depends on your internet service speed.
All rights copyright the artist. No use of images allowed without expressed consent of the artist.